Cisco SG95-24 Gigabit Switch $2200.0
(Model: SG95-24 Switch)
Cisco Compact 24-Port Gigabit Switch
Product Website Information:
https://www.cisco.com/c/en/us/support/switches/95-series-unmanaged-switches/tsd-products-support-series-home.html
Cisco 95 Series Unmanaged Switches:
Affordable, Easy-to-Use Switches for Small Business Networks, with Zero Configuration Required
Highlights
● Affordable 10/100/1000-Mbps speeds for even the most bandwidth-hungry applications
● 5- to 24-port models that are desktop or rack mountable
● Integrated support for traffic prioritization, loop detection, cable diagnostics, and more
● Works right out of the box: plug and play and no setup
Product Overview
Give your office network a boost of speed and performance at a low price that takes almost no time to set up. Easily build a highly reliable network to connect your computers, printers, copiers, and other office equipment. If your business is like most small companies, you do not have an IT staff to set up your network for you. Now you can have a high-performance, business-class office network that just works, right out of the box, with the Cisco® 95 Series Unmanaged Switches. Users, workgroups, labs, departments, or growing offices can now deliver large amounts of multimedia, image, and video information across the network in almost no time.
Cisco 95 Series Unmanaged Switches deliver basic network connectivity and reliability for small businesses that is easy on the budget and without all the complexity. These switches provide all of the features, expandability, and investment protection you expect from Cisco, with no installation software and nothing to configure. Just plug it in, connect your computers and other business equipment, and get to work.
Cisco 95 Series Unmanaged Switches (Figure 1), part of the Cisco Small Business networking solutions, are a line of unmanaged switches that provide wire-speed Fast Ethernet and Gigabit Ethernet connectivity to connect your small business office. Available in desktop and rack-mount models, these switches are designed to suit any office space with basic network needs and to optimize power efficiency. They use less power and provide the robust, reliable connectivity your business demands, as well as support for advanced features such as quality of service (QoS), loop detection, and cable diagnostics, all in a switch that you can set up yourself in minutes. A businessclass, affordable network solution, Cisco 95 Series switches bring the proven reliability and investment protection of Cisco networking solutions to your small business.
Product System and Hardware Information:
Specifications Table 1 lists the specifications, package contents, and minimum requirements for the Cisco 95 Series.
Table 1. Specifications for Cisco 95 Series Switches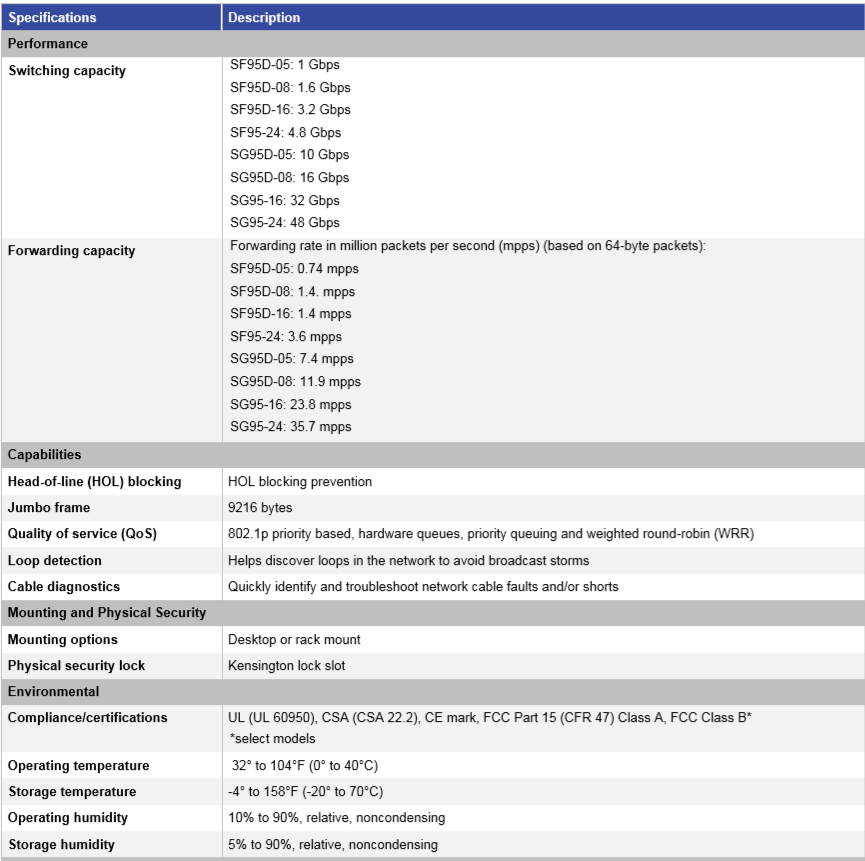 即時聯絡時間:
星期一至日 09:00-21:00
Email: ho@2mbz.com